Gloria Origgi
NEW : Visit my blog at http://www.gloriaoriggi.blogspot.com daily updated.
Visiting Fellow at the Italian Academy at Columbia, New York, from January until April 2005
Chargée de Recherche au CNRS à Paris. Philosophe, je travaille sur l'épistémologie sociale, la philosophie cognitive et l'épistémologie appliquée.
Researcher in philosophy at C.N.R.S. My research interests are in social epistemology philosophy of cognition and Web studies.
Je dirige le projet www.interdisciplines.org un portail de conférences virtuelles en sciences humaines.
I am the editor of the www.interdisciplines.org project, a portal for virtual conferences in social and cognitive sciences.
Avec le Centre Pompidou et la société GiantChair j'ai conçu le colloque Web : www.text-e.org.
With the Centre Pompidou, I have organized the Web conference: www.texte.org The conference was sponsored by GiantChair
Recent Books:
G. Origgi (ed.) Text-e. The Future of Text in Internet, Palgrave,

London
. You can find it at:
Amazon
Selected articles on line: you can browse the open archives of the CNRS institute: Institut Nicod
Is Trust an Epistemological Notion? (.pdf)
Croyance, déférence, témoignage (.pdf)
A Humanities Approach to the Internet
(with Dan Sperber) Production, transmission et impact des nouveaux savoirs
(with Dan Sperber) Evolution, Communication and the Proper Function of Language
Recent articles for Italian newspapers and reviews:
Paul Ricoeur 1913-2005, Il Sole 24 Ore (maggio 2005)
Pensare in un batter d'occhio, Il Sole 24 Ore (genn. 2005)
Ricerche su Internet, La Rivista dei Libri (dec. 2003)
Recherches sur Internet (version française de l'article en italien pour La Rivista dei Libri)
Il triangolo della verità: Donald Davidson, Il Sole 24 Ore (sett. 2003)
Genealogie dell'anima (anzi, del corpo), Il Sole 24 Ore (genn. 2004)
I wrote a book on Willard Van Orman Quine (1908-2000). Read my obituary (in Italian) published in the literary supplement of the Italian newspaper Il Sole 24 Ore (12/31/2000)
See the table of contents in English or the table of contents in Italian. You can also read the introduction in Italian.
I have been working for years as a translator (English/French into Italian) and editor of philosophical works. See some of my works.
Do you need a very good translator from English to French? Vous cherchez une excellente traductrice de l'italien et de l'anglais vers le français? Contactez à mon nom Mme. Anne-Marie Varigault . Anne-Marie travaille comme traductrice pour le projet www.interdisciplines.org. Elle a aussi traduit la plupart des articles du livre Text-e : le texte à l'heure de l'Internet, Bpi, 2003. Elle travaille comme free-lance à Paris.
My son Leo is five years old: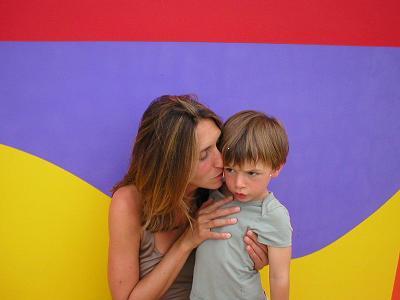 Leo & Gloria in front of the Barolo chapel, decorated by Sol Lewitt (La Morra, Italy).